When it comes to addressing climate change, the time for action has long since arrived. The climate is changing, and we each must do what we can to mitigate and adapt to these changes. Climate Smart Cape Town is a campaign to help residents of Cape Town learn about climate change and how they can take action, as well as to learn about the actions already being taken by the City of Cape Town and other leading public and private sector organisations to mitigate and adapt to climate change.

You are invited to take action and to share your ideas for what else can be done.
"There is no time to lose. Climate change is the challenge of all time. No part of the world is immune. We are all in this together." – Wangari Maathai, Nobel Peace Prize Winner.
JOIN THE CAMPAIGN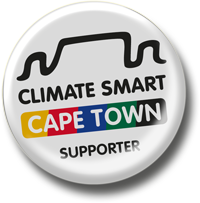 Helping Cape Town take action to be climate smart, resilient and resource efficient. Working together to reduce carbon emissions and protect our environment.